Universally applicable: Latest Version of SML's multi-purpose cast film line with new MDO unit
SML has just set up the newest version of its multi-purpose cast film line in its Technology Centre. The line is universally applicable and features a number of technical innovations: Above all, a further-developed MDO unit.
 
"Our new multi-purpose cast film line will not fail to impress even long-serving experts. The line has the technical capacity to fulfil almost every customer requirement in cast film production", Elias Mayrhofer, R&D Engineer at SML, comments with pride. The cast film line is ready for the production of CPP, CPE, Cast-PET, barrier, as well as for mono-oriented films. The application areas are comprehensive as well: They range from film for metallized and laminated standard food and non-food packaging to easy-to-recycle stand-up pouches of MOPE film and further to label film, and also include technical products like cable insulations and easy-tear MOPP film. Despite its wide functional range, the line can be further optimized for the manufacturing of specialized products – assuring the highest efficiency and maximum quality.
 
Coherent concept 
"A central characteristic of all of our machinery is the coherent line concept that we continue to develop and optimize," Elias Mayrhofer states. This is underlined yet again by the modern and clear design of SML's multi-purpose cast film line.
SML's new multi-purpose cast film line offers the following technical features:
A seven-layer variable geometry feedblock with the possibility of numerous different layer arrangements

Die width 2,850 mm, with internal deckling system two times 350 mm

New MDO unit: maximum roll temperature of 160 ° C, maximum stretching ratio 1:10

Horizontal sliding winder for up to 4 part bobbins 


 
MDO unit for mono-materials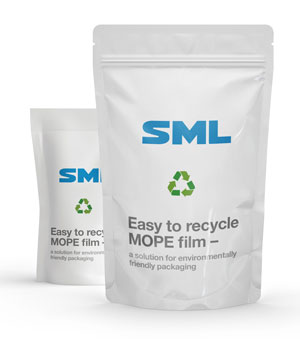 One key innovation featured in SML's latest cast film line is the MDO unit, that is also designed for the manufacturing of easy-to-recycle mono-material films such as MOPP, MOPE and MOPET. With this MDO unit, properties such as the film strength in the machine direction, stiffness and puncture resistance are increased even further, while the film thickness and elongation in the machine direction are significantly decreased. SML has streamlined the whole MDO process: The clean and straightforward design makes operation comfortable and provides sufficient space for maintenance offering easy access.
New roller arrangement – tight stretching gap 
One of the main technical features of SML's latest MDO version is the process-optimized roller-arrangement. The adjustment of the stretching gap takes place in a motorized fashion, making the operation and alternations for product changes quite simple. As the stretching rollers have a diameter of 220 mm, the stretching gap can be kept narrow in a range between 50 and 200 mm (free length of the film between the rollers). While the distances between the stretching rollers can be reduced to a few mm only. The positions of the nip rollers in the stretching area are adjustable too. This ensures an ideal stretching process of the film, independent of the defined stretching gap.
Comfortable settings with SML's new HMI 
Finally, all the process parameters of the MDO unit are digitally recorded and can be comfortably set and adjusted with SML's new HMI.
SML's new multi-purpose cast film line is available to customers for trials and sample production onwards.
Redlham, 05.10.2023