Higher output at lower titres: Austrofil® "VERTEX" spinning line for PP and PET yarns
With its focus on the lower titre range, SML's new VERTEX-series is a perfect addition to SML's top-selling Austrofil® MT/HT multifilament spinning lines. Its key characteristics are higher line speeds, increased output capacity and more efficiency at low titres. At ITMA 2023, the new series will be presented to the wider public.
In contrast to SML's market proven Austrofil® MT/HT 4x4 spinning lines with 16 yarn ends, the new Austrofil® VERTEX line exhibits 24 ends in its basic configuration 3x8. Therefore, the line efficiency is substantially increased at low titres. To give an example: the production output for a 250 den yarn is doubled than on the Austrofil® MT/HT line. Apart from the higher number of yarn ends, the VERTEX line is equipped with godets and winders for increased speeds.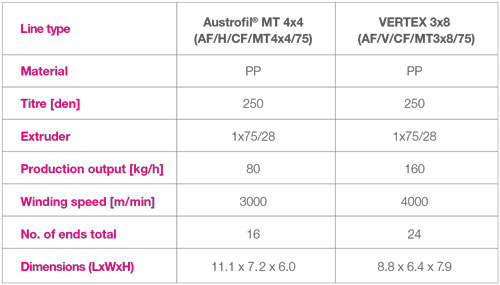 Modular line concept – flexible enlargement 
With the new VERTEX series, SML is presenting a completely new line concept: the stretching and winding units of the VERTEX series are placed directly beneath the spinning head and the quenching unit. Therefore, a VERTEX 3x8 requires 30 % less floorspace compared to an Austrofil® MT/HT 4x4. Additionally, this "line-by-line" concept offers the possibility to enlarge the line production capacity by simply adding further spinning units. This is accomplished by a sophisticated steel construction, which makes it possible to easily string together additional machines of this type.
Ready for PET 
The application area of the new VERTEX series will not be limited to PP. Instead, it will be extended to PET in response to the market requirements for PET CF yarn. This type of PET yarn will find applications in various areas, for example, in the manufacturing of air texturizing yarns, yarns for carpet piles or yarn for home textiles and upholstery. In this context, the Austrofil® VERTEX line will cover a titer range from 75 to 800 den.
Long-term experience 
SML has long-term experience in the manufacturing of spinning lines for premium MT and HT yarn. Today, over 200 Austrofil® MT/HT lines are in operation, manufacturing in a wide range of different products such as sewing yarns for big bags or synthetic yarns for ropes, filters, belts, carpets, seals, and many other textiles. Generally, these top-selling Austrofil lines cover a titre range from 150 to 4,000 den, but their focus – and optimum efficiency – lie in the range between 600 and 2,000 den. Maximum tenacity can be achieved in its HT configuration, with the unique hot-air oven technology.
Redlham, 25.04.2023